LEVEL 2

Ethical Dog Training Basics
Basic life skills dog training – online practicals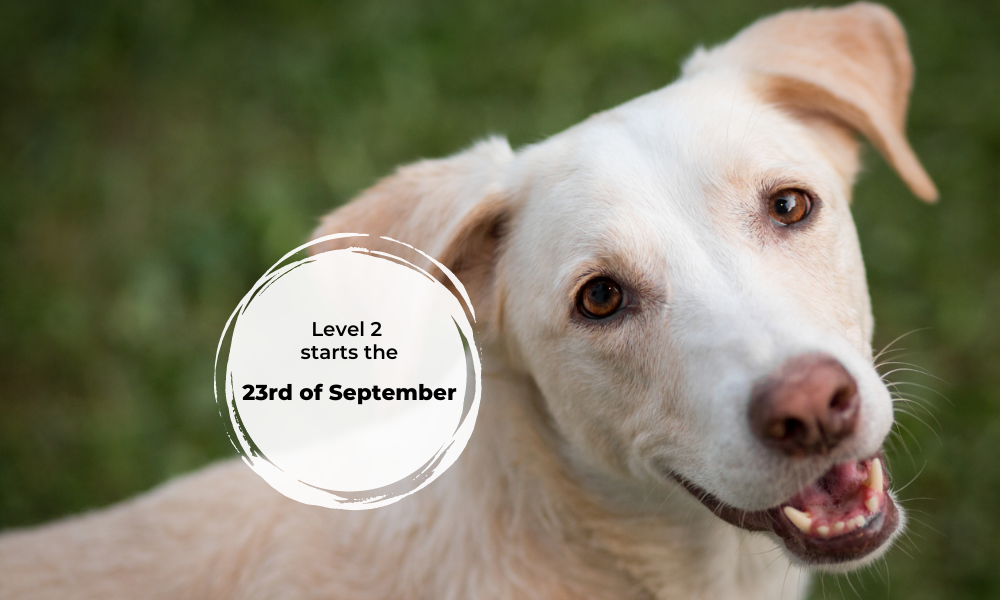 This course is perfect if you want to apply the theory from level 1 into practical learning. It's for you who:
are a dog owner who wants to learn about your own dog and solve problem behaviour

already are working with dogs (instructor, breeder, vet. assistant, groomer, dog walker) and want to learn more about positive dog training, problem solving and dog language

want to be come a part-time of full-time dog trainer and behavourist
To register for level 2 you need to currently attend, or have completed level 1.
Subjects and learning objectives
Basic practical observation skills of dog language
Basic understanding of facilitating activities based on the individual dogs needs and behaviour
Basic understanding of facilitating socialisation and training for fearful and aggressive dogs
Basic understanding for practical learning principles using desensitisation
Basic understanding and training of stress reducing activities
Practical training with your own dog
Level 2 is practical training of what you learn in Level 1.
4 weekends (8 full days) of online teaching and practical training in, and around your own home with your own dog.
If you don't have your own dog, you can do the exercises with a dog from a family member or a friend.
Language: English
Upon completion you will be awarded a certificate.
This online course puts into practice the basic theoretical knowledge from Level 1.
Four weekends (eight days in total) of practical training with your own dog.
You will be given exercises to complete in, or near to your home and receive individual support and feedback from the teachers.
Practical exercises:
observation of your dog and your own body language
attention sound and walk nice on leash
passing other dogs/humans/objects when walking your dog
re-call
hand signal and splitting
environmental training and socialisation skills
Fall 2023:
23rd and 24th of September
14th and 15th of October
11th and 12th of November
9th and 10th of December
You can choose if you want to do Level 2 after completing, or while attending Level 1.
Elena Kichinskaia
Lyubov Elupova
Stephanie Rousseau
This is what our students say
I'd like to say thank you for such an interesting and useful course!
I don't know how you did it but  you created an amazing combination of useful information, practical work and how to develop a deep understanding of the nuances of dog's reactions — and all of this in a friendly and positive atmosphere!
It was pure enjoyment to  study in such a great international team of dog-lovers and the only thing I'm sorry for that it came to an end, so im looking for the level 3 and level 4.
I want to thank all of you for such a great life-changing experience! I think studying in your school has been one of my life's best choices.
Somebody asked me what is the most important thing I studied at level 1? At first it was hard to answer, because every lesson was so valuable for me! Then I said: "You can be just a dog owner or owner of a happy dog! To have a happy dog, a big job also has to be done, not just listening to the lessons. But life with a happy dog is worth all of that!".
The weekends I was attending in level 2 were the most interesting, funny, challenging days with the best company. Very very huge thanks to Tanya & Elena for such a warm, helpful and wise company in our journey!
I really hope to see you all at level 3, I wish my dream will come true!